Did you know that we currently have 95 styles of kids medical alert bracelets? (And, there could be even more by the time you read this!) If you have a medical ID bracelet or necklace, you should wear it at all times. This is especially true for kids—if you're sending them out of the house (and let's face it, we want kids out of the house!) they should be going with their medical needs properly identified.
We get it: being stuck wearing medical jewelry all the time isn't that much fun. However, we know that having options are fun, and getting to choose a new bracelet that is cooler than your last one can be a great way to get kids involved and complain less and understand more about the importance of wearing medical alert jewelry.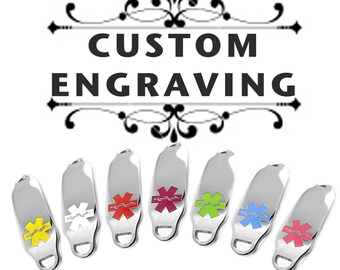 Here are some of the products I love, to get you started on finding the perfect medical ID product for a kid or fun-loving adult!
Let's start with COLORS.
On the left side of our
kids medical products page
, you'll find a dropdown to help you find just what you're looking for. The last box (which I'm not sure why it's last! :)) is color—we offer emblems on certain products in red, white, lime green, light blue, blue (like royal blue), (forest) green, yellow, pink, purple, and black. Not every style, like our sports bands, are available in every colour, but our nylon band products have enough options in themselves!
These are our canvas bands, a pretty new addition to our collection that I really like! Our nylon bands are currently available in 12 colours/styles to suit every style! Available in a colour or pattern that is sure to fit every personality, they're lightweight, fun, and a great choice for going back to school.
We also have a few new coloured variations of stainless steel—I wrote last month about the new gold products, but another personal favorite is our sleek black ID tags! These are available with a
red
or
white
symbol!
We also have an assortment of chain options, including curb chain and o-link, as well as
bracelet strands
that mimic the the creativity of a beaded bracelet, with the durability of steel!
Tag Size
Next up, tag size. Have a small kid, small wrist, or not a lot to engrave? Consider our Mini Basic tags, available in Light Blue, Pink and Red. These smaller tags are available on our chain bracelets only—but, you can always chat with
Jon
about your special requests to mix it up!
Tag Style
Wait, did I mention necklaces?
We have necklaces, too
! From
dog tag
style necklaces, to
heart-shaped charms
, to shiny steel
pendants
, that are sure to suit any need if you don't like having jewelry around your wrists, or are unable to due playing certain sports, or work. A unique option, is the
red
,
blue
, and
green
dog tags available, similar to our coloured kids bracelets!
So, while i've given you the tools to get started, the options are abundant here at My Identity Doctor.